WhatsApp channels: How to set up your WhatsApp channel
On 13 September, META rolled out "WhatsApp Channels" globally. The feature was tested in Colombia and Singapore before the launch. Now it has been available globally in 150 countries, including Germany, Austria, and Switzerland, for a few days. The "one-to-many" feature is very reminiscent of Telegram groups or Instagram broadcasts.
The goal is to let you follow your favourite businesses, organisations or associations in a "timeline" that resembles the "Instagram homescreen", thus transforming WhatsApp from a messenger to a social media platform.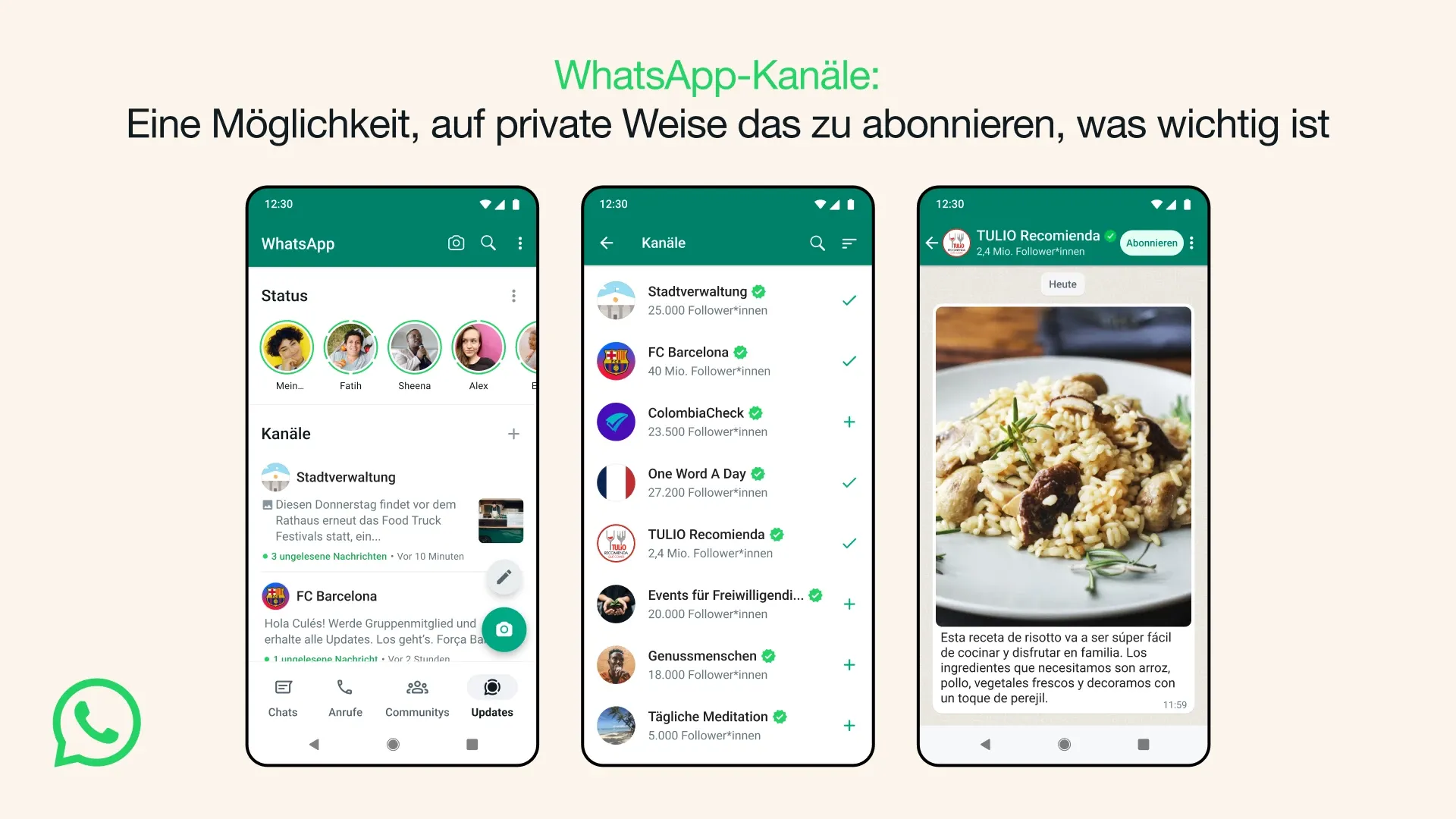 Source: WhatsApp
At the time of the launch in spring 2023, it was not 100% clear which companies would be able to create their own channel. This feature has now been made available to everyone as of November 2023. Originally, anyone could join a channel, but now you can also create your channel in your WhatsApp business or private app.
How to create a WhatsApp channel
Here's your step-by-step guide on how to create your WhatsApp channel:
open WhatsApp App and access channels by clicking on the "Channels Icon". Click on + Create channel. 3. Click Next and follow the instructions on the screen. 4.
name your channel. This channel name can be changed at any time afterwards. Personalise your channel: Add a description and/or a picture. You can also update this information at any time.
click "Create channel". Voila, you've done it!
At the moment of launch, it was not 100% clear which companies will be able to create their own channel. This feature was reserved for a few businesses at the current time - September 2023 - for months. These must had had a WhatsApp Business App. However, anyone could already join a channel. Meanwhile, WhatsApp has globally enrolled the feature, making it available for everyone. Go create your channel now if you want!
How to join a WhatsApp channel
How to join the WhatsApp channel of your favourite company, or club. 1:
click on "News
where before only the "Status" function was available, there is now also "Channels" below it
click "+" to find or subscribe to a channel
scroll through your subscribed channels
"Unfortunately" you can only react with emojis on WhatsApp channels, this is also the only analysis function for channel administrators. So you can neither communicate nor interact with the other channel members. Automations and flows are also not possible, so WhatsApp channels are and remain a "one-to-many broadcast channel". "WhatsApp Channels" is not end-to-end encrypted and thus not DSGVO-compliant. However, the administrators have no insight into the WhatsApp usernames of the channel members, nor do they.
The differences between WhatsApp channels and the WhatsApp Business Platform
Here is a brief overview of what you can do with WhatsApp channels and what is possible with the WhatsApp Business Platform:
| Feature | WhatsApp Channels | WhatsApp Business Platform |
| --- | --- | --- |
| GDPR-compliance | ❌ | ✅ |
| Automations | ❌ | ✅ |
| Personalisations | ❌ | ✅ |
| One-to-many | ✅ | ❌ |
| One-to-one | ❌ | ✅ |
| API integrations | ❌ | ✅ |
| Fee-based | ❌ | ✅ |
| Analytics & Reporting | ❌ | ✅ |
It should therefore be noted that the approach to "WhatsApp channels" differs profoundly philosophically from the direct marketing option of the "WhatsApp Business Platform", the WhatsApp API on which Chatarmin is also based. We see cannibalisation and competition insofar as the "WhatsApp Newsletter" case is now finally possible. This was not feasible in a scalable way due to the WhatsApp Business Platform costs.
Use Cases in comparison: "WhatsApp Channels" is worthwhile for this
Use cases in comparison: "one-to-many" vs. "one-to-one":
| Use Case | one-to-many | one-to-one |
| --- | --- | --- |
| Secret Access | ❌ | ✅ |
| Early Access | ❌ | ✅ |
| Private Drops | ❌ | ✅ |
| Lead Gen | ❌ | ✅ |
| Lead Enrichment | ❌ | ✅ |
| Lead Conversion | ❌ | ✅ |
| Information | ✅ | ✅ |
| News | ✅ | ✅ |
| Sales | ❌ | ✅ |
| Support & Service | ❌ | ✅ |
| Professional Analytics | ❌ | ✅ |
| Personalised Flows | ❌ | ✅ |
| API-triggered flows | ❌ | ✅ |
| Community | ✅ | ❌ |
| B2B Sales | ❌ | ✅ |
If you have a fundamental understanding of marketing, you can therefore see the advantages and disadvantages in both directions and deal prudently with WhatsApp channels accordingly, as well as with the possibility of scalable and DSGVO-compliant direct marketing via WhatsApp using the WhatsApp Business Platform.
UPDATE: November 2023
Since posting this blog, a lot has happened. WhatsApp has globally rolled out its WhatsApp channels feature, and it seems as if everyone now has the chance to open up a channel, at least in the DACH region. And the best is, it is not just possible through the WhatsApp Business App anymore, but also the usual WhatsApp Private App everyone's been using ever since.
Even I, Johannes Mansbart, Chatarmin-founder, writer of this blogpost and by no means a celebrity whatsoever, am now allowed to create my own WhatsApp-channel
We are happy about this movement, but at the same time want to warn about it: Don't expect wonders, starting and scaling your WhatsApp channels. Soon it might be just another crowded social media channel, engaging and converting very similarly in its channels-feature to other Social Media apps such as Instagram, Facebook, TikTok, Snapchat and Co.
If you are seeking for a truly integrated, personalized and unique approach, guaranteeing you "100% delivery-100% engagement" WhatsApp marketing abilities, make sure you checkout our Chatarmin solution.
a conclusion: WhatsApp channels in the analysis
We at Chatarmin find it a shame that "WhatsApp Channels" are not available for WhatsApp corporate accounts on the Business Platform. This is how a company that wants to harness the full power of WhatsApp's capabilities must:
Sales & Support
Channels
Direct Marketing
use up to three WABAs ("WhatsApp Business Accounts") with three different numbers. Ultimately, this leads to cannibalisation and competition both for the use cases and for the service providers. For the end user, on the other hand, it is simply confusing.
We welcome WhatsApp's move to go more in the community and social media direction. In this way, WhatsApp will become even more of a daily companion in our everyday lives.
A sensible WhatsApp marketing strategy in the future will include both: a WhatsApp channel and a WhatsApp Business Platform channel for direct messaging in personalised 1:1 communication with end customers.
Get your 25-minute sparring session to learn more about WhatsApp marketing strategies: