Marketing with WhatsApp: 6 Hacks for your Black Friday Marketing via WhatsApp
We have written a lot about Marketing with WhatsApp within the last few months. In today's blog post, we will explore six different leadgen strategies to scale your Marketing via WhatsApp. This is specifically useful for you if Q4 and Q1 are the most relevant quarters for your D2C eCommerce business, probably running on a Shopify & Klaviyo techstack. So, let's dive into how to do marketing with WhatsApp, preparing your black friday & cyber monday campaigns, marketing via WhatsApp.
It all ends up with lead gen and lead conversion: more leads marketing via WhatsApp
The idea of Marketing with WhatsApp arises from a simple logic: CPOs and CPMs rise during black week, and so does your ads budget. Bidding strategies go crazy and you're overspending for every dollar made, simply because with the spent-happiness of your end-users, your ads budgets go up. So, you don't want to rely on finding the best angles and creating the most insane creatives during THE ONE WEEK where your revenue just spikes like it never else does during the year. Being dependent on random algorithms on META, Tiktok, Google and the likes is what you don't want to end up being in Q4. That's why you want to add a retention backbone to your black week marketing strategy - doing Black Friday Marketing via WhatsApp.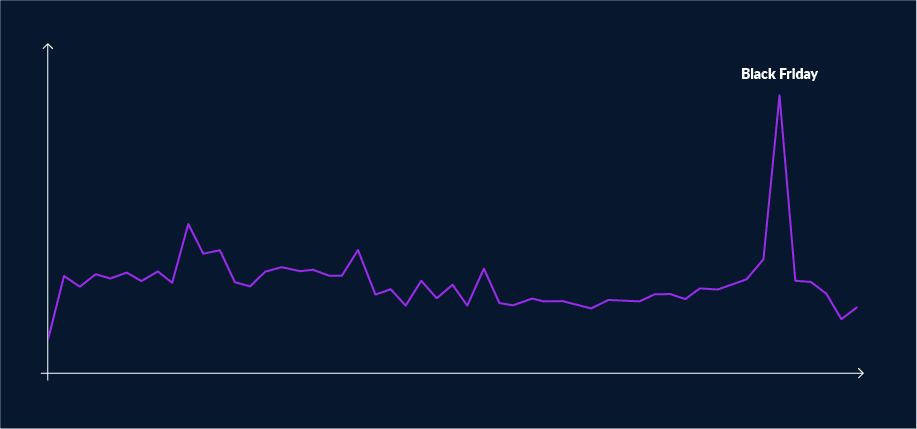 revenue and ads pend spikes during black week, which makes marketing via WhatsApp even more important
So, we advocate: Controllable marketing instead of random marketing. CRM instead of wasting precious budget. All you need to have is warm leads, doing Marketing with WhatsApp_
Marketing with WhatsApp #1: Cheap leads through influencer marketing
Leoni Hutzler, CRM Lead of German FMCG Brand "Kloster Kitchen" just recently shared the results doing Influencer Marketing with WhatsApp: 800 leads within 24hrs through an advent calendar giveaway. This results not only in extreme CPO metrics of around €2,00, but also them being warm leads doing marketing with WhatsApp, acquiring a completely new audience through a partnership with an influencer. Imagine running ads doing acquisition marketing via WhatsApp, targeting specifically the influencers' community doing new acquisition marketing with WhatsApp. This can even improve your already so impressive results, having cheap CPO's pre-black-friday, running your influencer marketing via WhatsApp.
Gain cheap CPO's by doing Influencer Marketing with WhatsApp, just like 7-figure-Shopify & Klaviyo-FMCG_Brand Kloster Kitchen
Marketing via WhatsApp #2: WhatsApp Chatstart Ads
Right now, pre-black-friday, you can still get to cheap CPL's by running WhatsApp Chatstart Ads. Doing cheap leadgen Marketing via WhatsApp.
German performance brand Jakob Strehlow shows how to achieve low CPLs doing acquisition marketing with WhatsApp
So, if you consider adding a low CPL strategy to your Q4 marketing mix, we suggest testing out click-to-WhatsApp-ads, achieving cheap leadgen doing Marketing via WhatsApp.
Marketing with WhatsApp #3: Mobile Popup Leadgen Marketing via WhatsApp